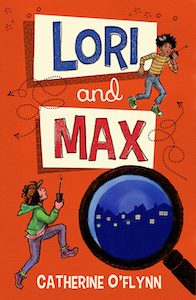 Orphan Lori Mason wants to be a detective but so far the most exciting mystery she has solved is the disappearance of her nan's specs down the back of the sofa – three identical closed cases, in fact. There is the unsolved case of Lori's neighbour's missing cat Mr Socks, but that falls by the wayside when new girl Max joins Class 6B.
Max is a bit weird. Her clothes don't quite fit and her hair is as wild and unkempt as her attitude. She doesn't fit in – but then neither does Lori. The two outsiders end up sat together and become loyal friends.
When the class charity collection  and Max both disappear at the same time, Lori is the only person who doesn't think Max has stolen the cash and run away. Even the police don't want to investigate. Suddenly Lori finds it's down to her to solve a real crime, contending with classroom conspiracies along the way.
With the help of her beloved detective stories, her kindly social justice-campaigning, bobble-hat wearing nan, and Mr Meacham from the sweet shop, Lori might just be able to track down Max … and clear her name
Reviews
"A wittily told detective story about two eccentric and endearing girls – a real page-turner."
Jacqueline Wilson
"Absolutely wonderful!"
Nina Stibbe
Buy Lori and Max
UK